C-BiLLT

Innovative assessment of spoken language comprehension in children with cerebral palsy: Development of the Canadian English Computer-Based instrument for Low motor Language Testing (C-BiLLT)

"Reading about the C-BiLLT is so exciting for me as a parent. I have been waiting for a long time for this kind of technology to properly assess my son's comprehension abilities. This would give us a deeper understanding of what he knows, his strengths and where support is needed." -Parent

Communication for All video
Check out our newest video about communication in non-verbal people with CP. Musa, Hunter, Marshall, and their families show how technology enables them to play, communicate, learn, work, and have fun. We are so proud and thankful for their hard work and dedication to this project! The video also shows the instrument we're working on here at CanChild: the C-BiLLT. This is an accessible test to assess someone's language comprehension skills. Originally developed in The Netherlands, we are adapting it for Canadian children with motor and speech impairments. Funding for this video was provided by the Ontario Brain Institute.
Are you a parent?
We are looking for children to participate in this exciting project. Only with your help, we can make this test available for Canadian children.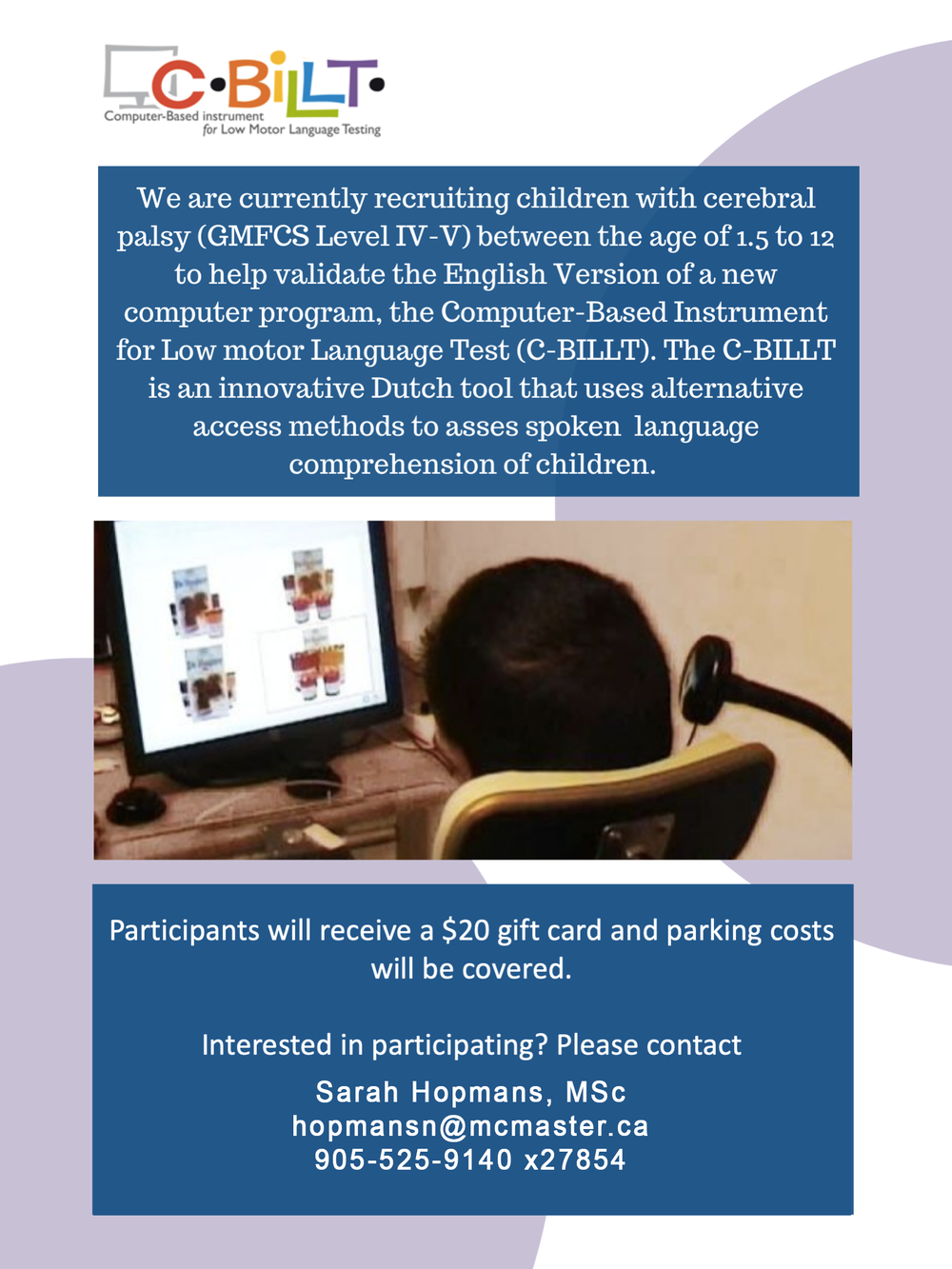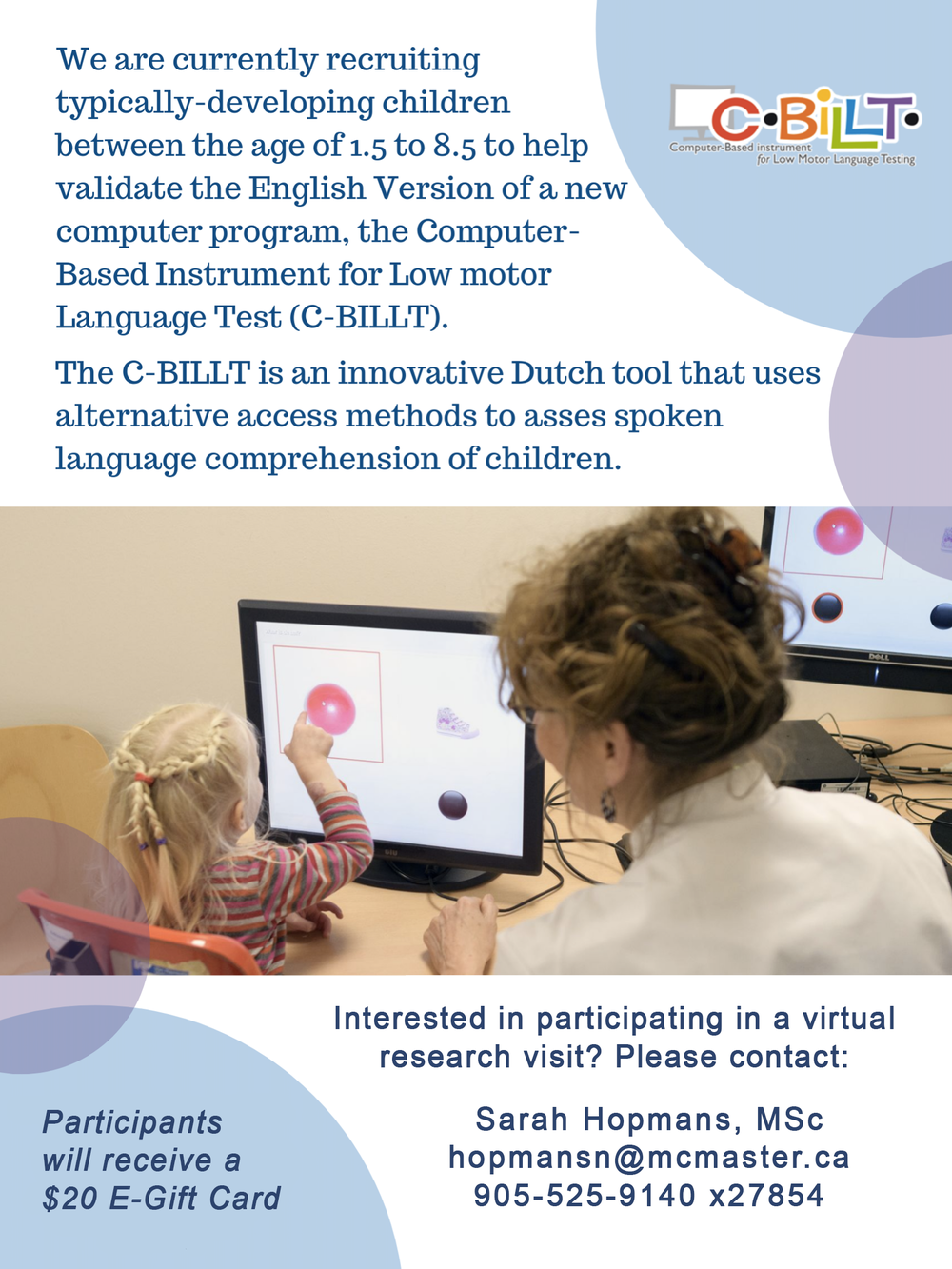 Currently, we are looking for typically developing children between the ages of 1.5 and 8.5 years old. The children will be assessed with the C-BiLLT, along with a few established language tests. This will allow us to determine if the C-BiLLT provides similar outcomes to the established tests, which will tell us if the C-BiLLT works well. Depending on their age, the assessment takes approximately 1 to 1.5 hours to complete. Your child will receive a $20 gift card as a thank-you for their time! Find out more about how to participate, or contact the research coordinator directly.
We are also looking for children with cerebral palsy between the ages of 1.5 and 12 years old, who have severely limited speech and motor function to examine the feasibility of the C-BiLLT. We will figure out the best way for them to participate in the test in collaboration with the child's family, their SLP, OT or doctor. While the Canadian C-BiLLT is not norm referenced yet, we will discuss the results. Families and therapists are welcome to join the assessment. Assessments are done by SLPs. They can take place at McMaster University in Hamilton, Holland Bloorview Kids Rehabilitation Hospital in Toronto, and in some cases at the child's school or home. Your child will receive a $20 gift card as a thank-you for their time. Find out more about how to participate, or contact the research coordinator directly. We look forward to hearing from you!
Due to the COVID-19 pandemic, all research visits with typically developing children will be conducted remotely via video-conference. For more details, please contact the research coordinator: hopmansn@mcmaster.ca or 905-525-9140 x 27854
Are you interested in the C-BiLLT, but does the child with CP doesn't meet the current eligibility criteria? Please contact us and we will let you know once we start including more children.
Are you an SLP or OT in Canada?
We are always looking for service providers with a special interest in the assessment of children with complex communication needs and limited mobility! Please contact us!
Short Video Series
We created a short video series featuring nonverbal people and their families. In the first two parts, we hope to inspire everyone with the stories of Mussa, Hunter, and Marshall and change the social stigma around nonverbal people. The last part shows how technology allows non-verbal people to dream big for the future.