Telepractice Resources
for pediatric communication professionals and families of children with speech, language, and communication needs
Researchers from CanChild talked with parents and communication professionals (managers, speech-language pathologists and communication disorders assistants) to understand their experience with therapies provided virtually during the COVID-19 pandemic. The goal of this project was to understand people's experiences to inform future telepractice. Participants' emphasized that each child and family had unique needs. This webpage contains resources that can be used freely by families and communication professionals to help them decide whether telepractice is a good option for therapy.
Here are the links to the publications from this study, if you have trouble accessing the publications, please contact the authors directly:
Citation
Kwok, E.Y.L., Cunningham, B.J., Pozniak, K., Chiu, J., Rosenbaum, P.L. (2022, August 10). Telepractice resources for pediatric communication professionals.

Infographics comparing virtual, in-person and a hybrid therapy approaches
Infographics on parents' and clinicians' roles in telepractice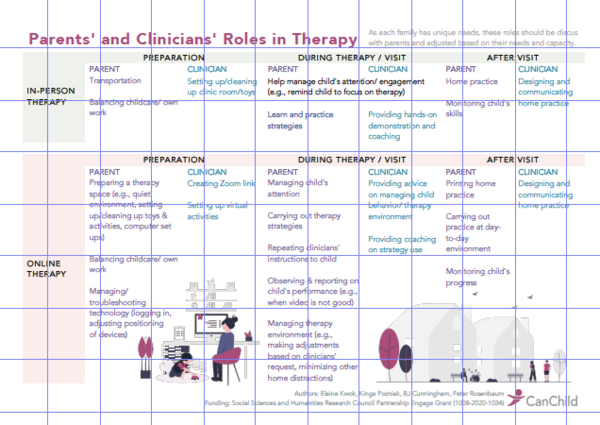 Lots of work goes into a successful therapy session. During our interviews, parents and clinicians talked about the many tasks they perform before, during and after each visit. This infographic summarizes the tasks required for a successful in-person versus a teletherapy approach, and who typically performed those tasks. It is important to note that this tool does not contain a complete list of tasks. Also, it is not meant to assign particular responsibility to parents or clinicians.
In our interviews, both parents and clinicians reported that parents performed more tasks during teletherapy to ensure it was successful. The added responsibilities required to make telepractice successful may not be right or suitable for every family. It may not be what all parents want. And it may not be beneficial for all children's development. Page 1 of this tool can be used to facilitate discussion between clinicians and parents about who can perform the various tasks. Page 2 presents a number of questions for clinicians to reflect on, and discuss with families.
Funding sources

Partnership Engage Grants COVID-19 Special Initiative (#1008-2020-1034) 2020-2022