BrothErs and Sisters involvement in health care TranSition for youth wIth Brain-based disabilitieS (BEST SIBS) Study
As children with disabilities grow up and become adults, they will move from their pediatric to adult health care providers. During this transition in health care, they need to learn how to make their own decisions about their health. This is not easy and they often need help from their family members. Siblings are part of the family who can support their brother or sister with a disability during transition. We developed the Sibling Youth Advisory Council, comprised of five young adults who have a brother or sister with a disability. We are collaborating with the SibYAC who identified this research project as important in raising awareness about siblings' roles. Siblings share a lifelong bond who may have an important influence on their brother or sister with a brain-based disability, as they may serve as role models and provide social support. However, the role of typically developing siblings during their brother or sister's preparation for health care transition is unclear. The purpose of this study is to explore and develop a deeper understanding of the roles and responsibilities held by siblings in supporting their brother or sister with a brain-based disability to prepare for health care transition. Information from this study can help to develop and tailor transition resources to support siblings.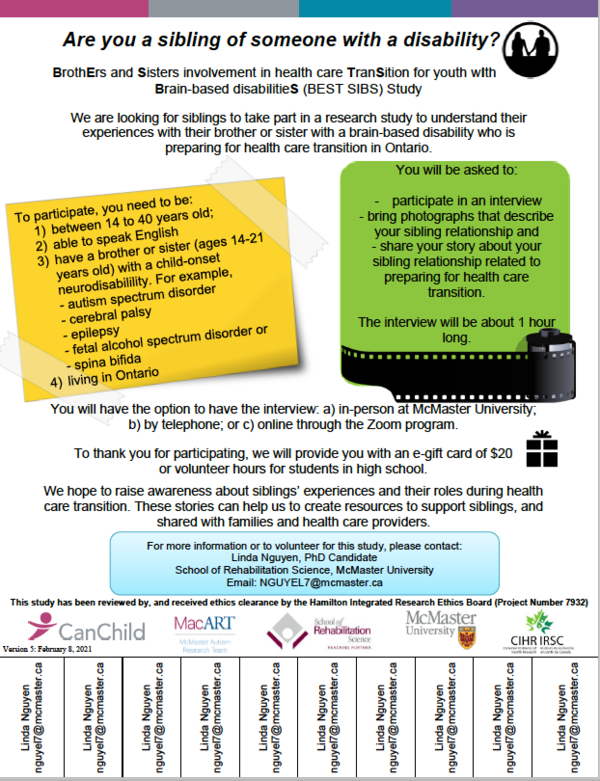 Do you have a family member or know of someone who has a brother or sister with a disability?
Siblings have a voice too. We are looking for siblings (ages 14 to 40) to take part in a research study to understand their experiences with their brother or sister (ages 14 to 21) with a child-onset neurodisability (for example, autism spectrum disorder, cerebral palsy, epilepsy, fetal alcohol spectrum disorder or spina bifida) and preparing for health care transition in Ontario. We would like to learn more about siblings' roles and responsibilities in supporting their brother or sister in preparing for the transition from pediatric to adult health care..

Sibling participants will be asked to take part in an interview and bring photographs that describe their sibling relationships. Interviews can be conducted by telephone or online through Zoom. In light of COVID-19, we will not be pursuing in-person interviews.
For more information, please contact Linda Nguyen at NGUYEL7@mcmaster.ca or watch the BEST SIBS recruitment video.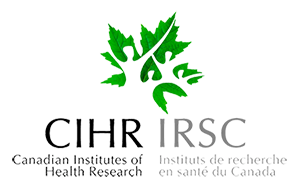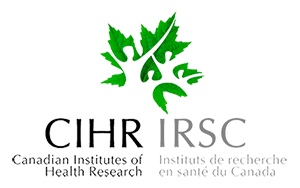 Canadian Institutes of Health Research (CIHR) Fellowship: Patient-Oriented Research Award - Transition to Leadership Stream - Phase I