Q&A Section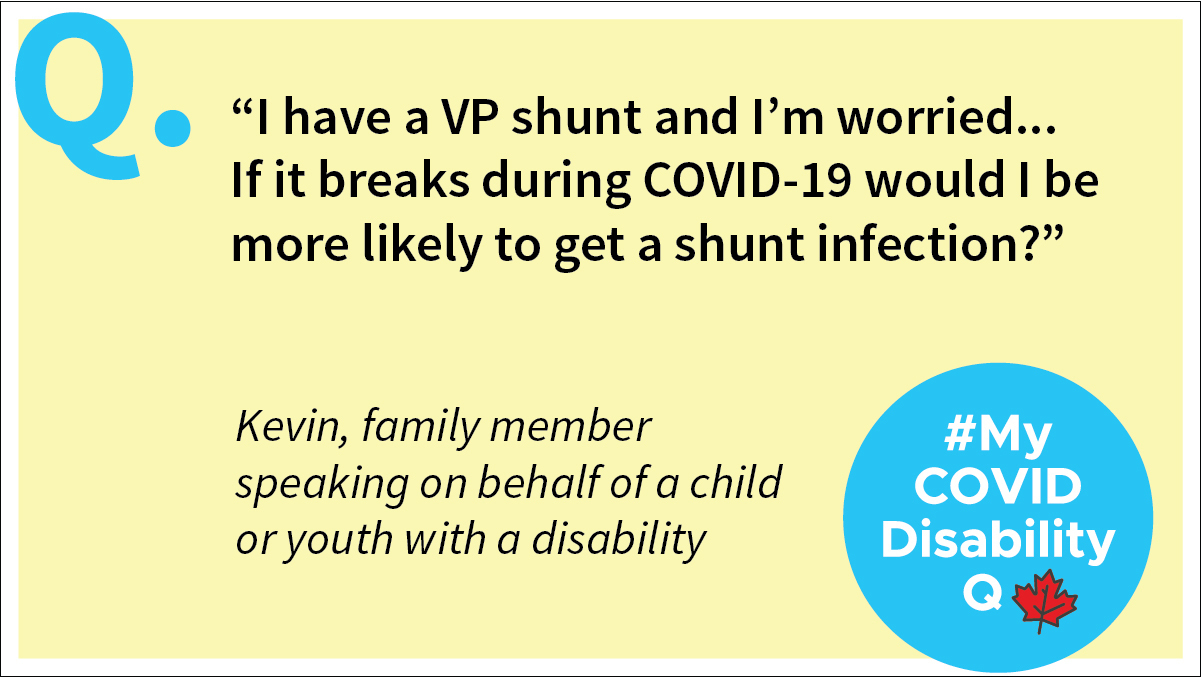 "I have a VP shunt and I'm worried... If it breaks during COVID-19 would I be more likely to get a shunt infection?"

- Kevin, family member of a child or youth with a disability
Response from Dr. Adam Kirton (Pediatric neurologist at the Alberta Children's Hospital in Calgary):
"Thanks for your question Kevin. There is no increased risk. COVID is a viral infection that does not appear to infect the nervous system or devices like shunts directly. In contrast, shunt infections are caused by bacteria that usually come from inside the body.
Even if you had to go to hospital, infection risks there are lower than ever because people are in isolation and being extra cautious about infection prevention."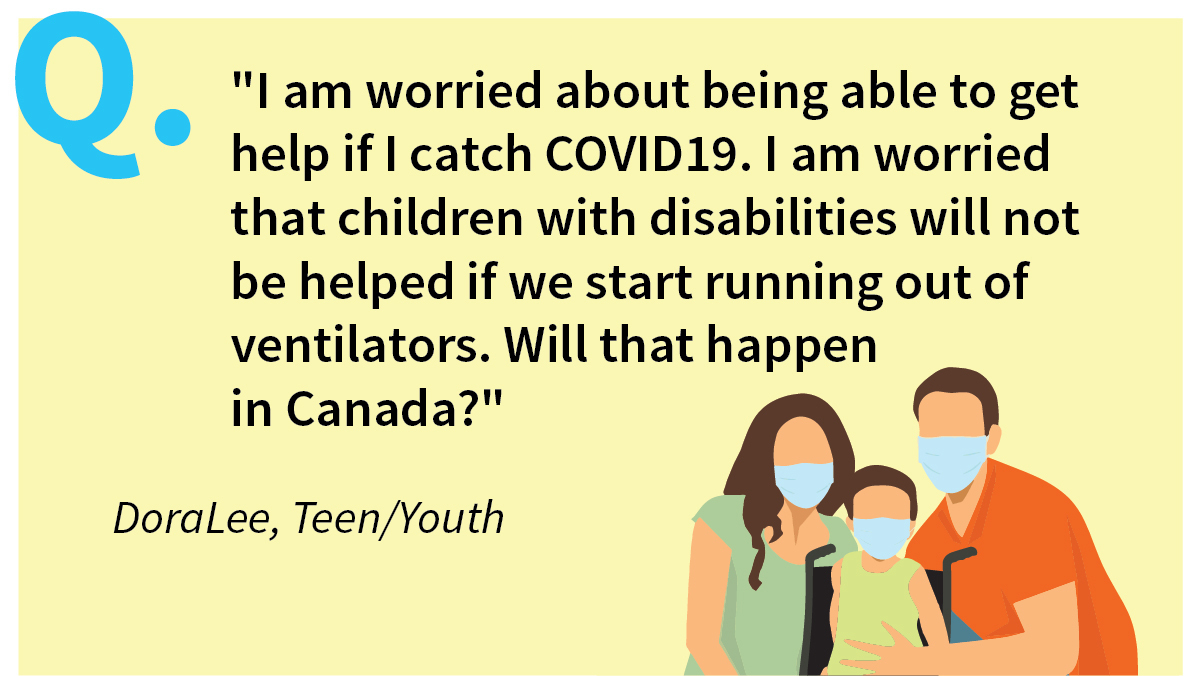 "I am worried about being able to help if I catch COVID19. I am worried that children with disabilities will not be helped if we start running out of ventilators. Will that happen in Canada?"
- Dora Lee, Teen/Youth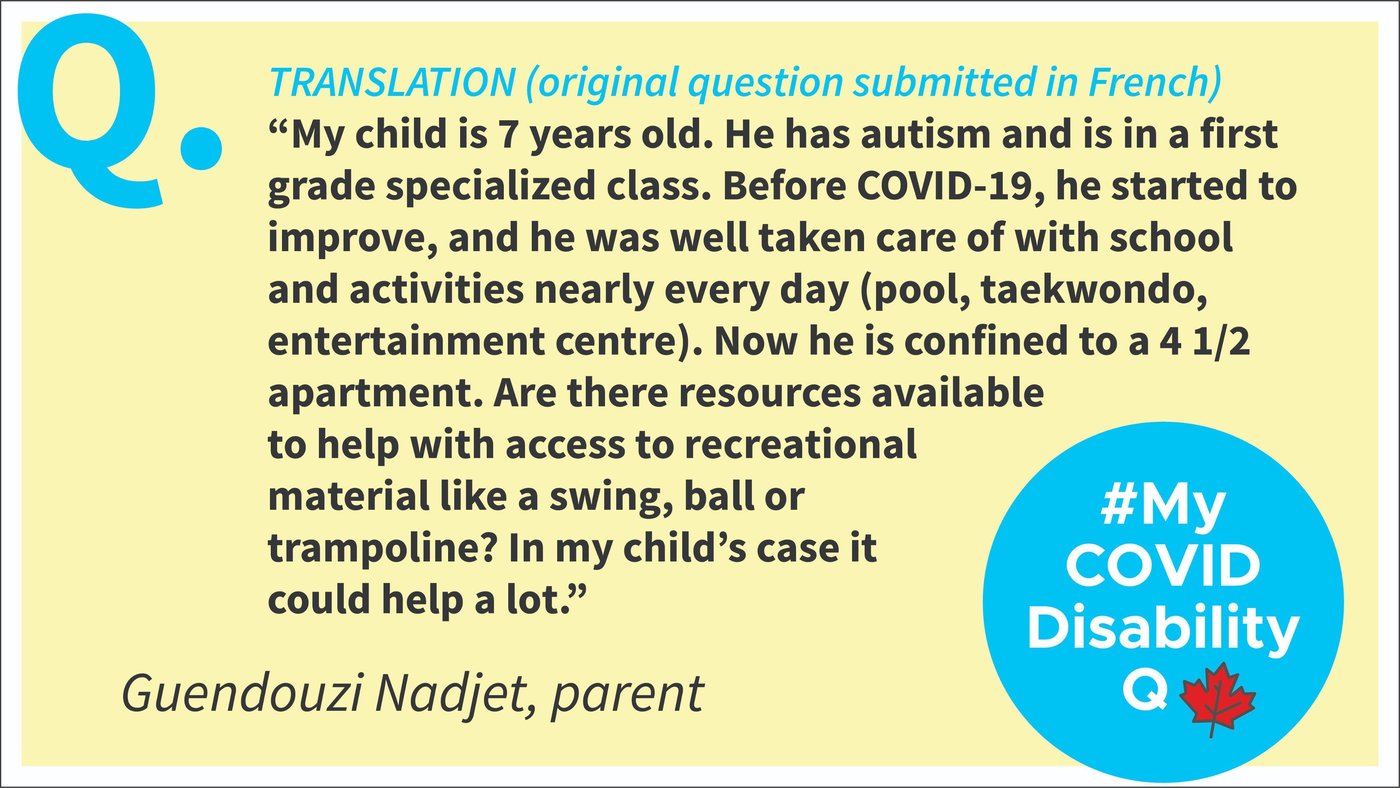 "My child is 7 years old. He has autism and is in a first grade specialized class. Before COVID-19, he started to improve, and he was well taken care of with school and activities nearly every day (pool, taekwondo, entertainment centre). Now he is confined to a 4 1/2 apartment. Are there resources available to help with access to recreational material like a swing, ball or trampoline? In my child's case it could help a lot."
- Guendouzi Nadjet, parent of a child or youth with a disability
Translation of response from Dr. Keiko Shikako-Thomas (Canada Research Chair in Childhood Disability, Participation and Knowledge Translation):
Having a routine is especially important. Dr. Keiko Shikako-Thomas suggests structuring your child's time around their preferences. You know your child best! Do they prefer movement, quiet time, or perhaps music? Build a routine that has work, leisure, and relaxation components. Don't forget to build in structured time for your child to communicate how they are feeling to you. Having a space where they are listened to and their needs are answered can be reassuring. If your child likes active play, use what you have at home before going out to buy expensive equipment! You can find ways to play with stairs, or by running around the building. Even jumping on the bed can be a DIY trampoline! Finally, take a look at the resources for inclusive leisure and mental health that Dr. Shikako-Thomas identified: https://twitter.com/KShikakothomas/status/1263142335292026885?s=20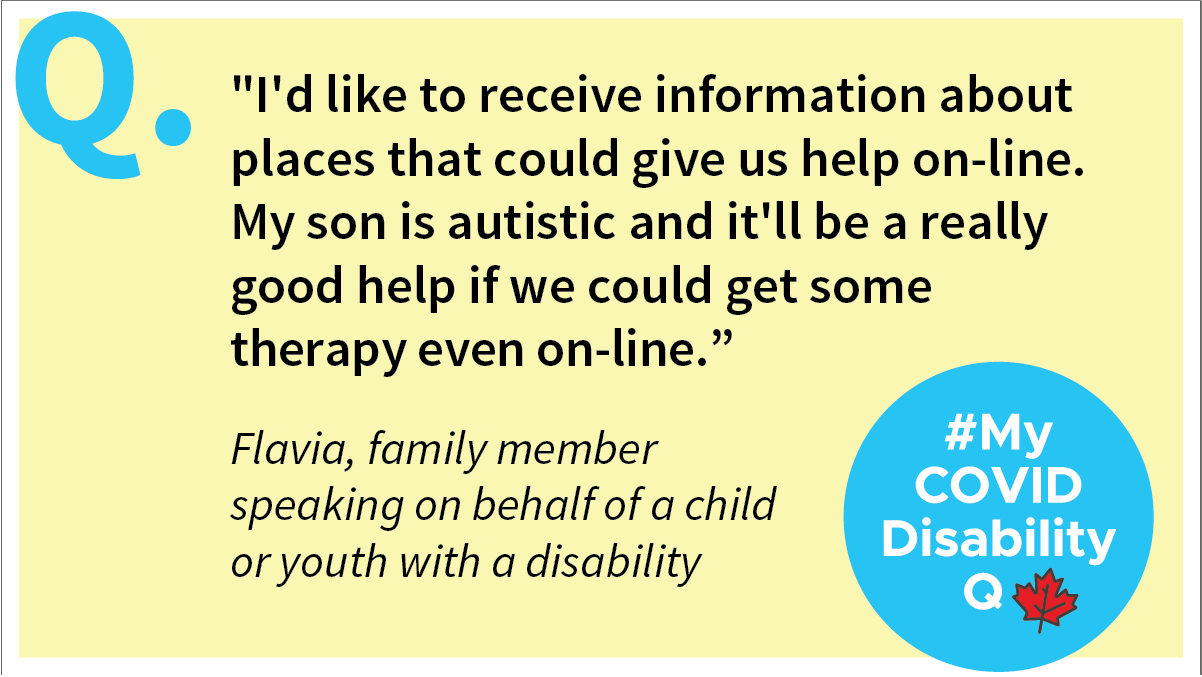 "I'd like to receive information about places that could give us help on-line. My son is autistic and it'll be a really good help if we could get some therapy even on-line"
– Flavia, parent of a child with a disability
Response from Dr. Olaf Kraus de Camargo (Associate Professor in the Department of Pediatrics at McMaster University):
Thank you for this question, Flavia. The answer depends where you live in Canada. In Ontario, your son needs to be registered to the #OAP (https://tinyurl.com/mycovidOAP). If you already have a service provider, contact this service provider. Many are offering virtual care and support that has been quite helpful to some of my patients. On the website https://tinyurl.com/mycovidASD you can also find free workshops that address common issues in Autism.