F-words Training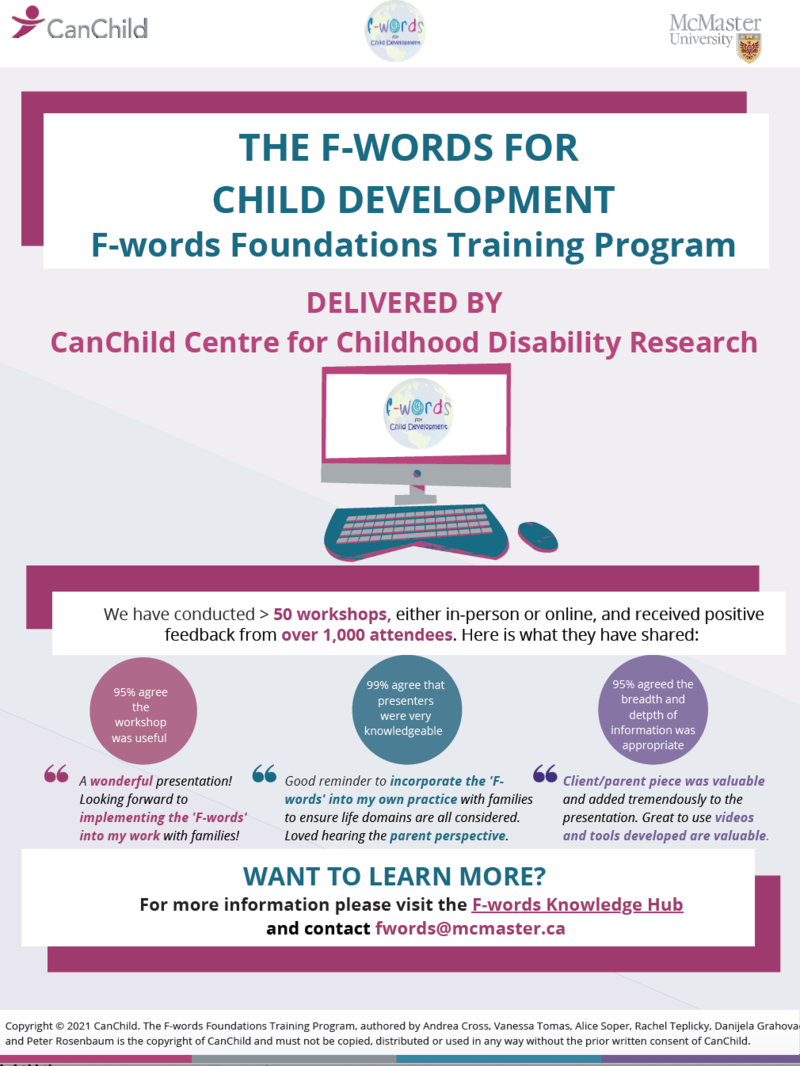 F-words Workshops

Since 2016, CanChild's F-words research team has delivered over 35 invited educational outreach visits in Ontario to children's treatment centres, EarlyOn centres, respite homes, and community organizations. To date, we have visited several cities and communities across Ontario, including, North Bay, Sudbury, Owen Sound, Kingston, Whitby, Mississauga, Windsor, Timmins, and many more. We've received positive feedback from over 1,000 people who participated in these outreach visits. Attendees have indicated tremendous interest and positive opinions about using the F-words in clinical practice and community programs.
For more information about our workshops, please refer to the following infographic:
What are people saying about CanChild's F-words workshops?
"I've learned a lot on how to use this holistic approach (rather than linear) model. It really helped me with changing and modifying my perspective."
"Very valuable! I will definitely be looking at the available resources and looking forward to the changes our agency will be making in applying the 6 F's."
"This is a fantastic tool for us to use when supporting families! I feel so lucky to work for an agency that is so forward thinking and we get to start implementing this right away."
"Really enjoyed the practical application of how the F-words can be used with our children when we practice and set goals. Great that you used a family experience/voice.​
"The overall presentation was more than I was anticipating. It was not only helpful, but very insightful. The presenters were engaging and open to all questions and spontaneous discussion."
Educational Outreach Visits
Beginning in 2018, CanChild has started moving the F-words ideas into Ontario school boards. To date, the F-words team has done educational outreaches with the following School Boards: Dufferin-Peel, Limestone, Algonquin & Lakeshore, and French and English of Eastern Ontario, with the interest of using the 'F-words' in schools only continuing to rise! Participants from these school board educational sessions have indicated both interest and positivity towards using the F-words in schools, as well as the perceived usefulness of these outreach visits.
Testimonials
"Parent input was wonderful! Really highlights material. CanChild knowledge Hub and Tools were great! Goal sheets should be implemented immediately in schools for our children."
"This information presented will further our resources to our children and ensuring that we consider the whole student when determining goals, plans, and strategies."
"Having a parent speak to their personal experiences directly in the context of the F-Words was a great addition. The content would be good to share with teachers and administration as a reminder to work on functional personal goal vs. academic goals that may not be meaningful to a family."
"I enjoyed the group work - small group discussions. Loved hearing the family stories and how the 6 Fs have been implemented."